Cybersite Client Billing System
Cybersite Client Billing System allows to check your account status, billing history, update your profile as well as submit your payment online.
Payment Method
You may select one(1) of the following payment methods proceed to submit your payment.
Payment By Credit Card
To submit your payment using credit card, please follow steps below:
Log into our Client Billing System:
https://www.cybersite.com.sg/billing/clientarea.php
Email Address = YourPrimaryContactEmail
*If you don't know what your password is, please click on "Forgot Your Password"
After login, at the bottom of the main page, you should see Due Invoices.
Click on "View Invoice" next to the invoice which you wish to view or pay.
At the top right corner of your invoice, you can see your payment method listed there.
To pay with Credit Card, change to "PayPal/Credit Card" and click on "Pay Now" button to submit your payment.
After you have submitted your payment successfully, you shall receive your receipt within 24 Hours.
If you are paying by credit card from outside of Singapore, kindly download and complete the Credit Card Authorization Form (CC_Auth_Form.pdf) Fax a copy of this completed form together with your passport to +65-67272276. Please specify your direct phone number which we can call to verify your identity. Credit card payment will be checked and processed within 2 business days from the date of receiving all supporting documents. Upon successful clearance of payment, service will be activated and you will be notified via email.
As for payment via PayPal gateway, kindly complete the PayPal Authorization Form (PayPal-Charge-Authorization-Form.pdf) and email to us at billing@exabytes.sg.
Terms And Conditions
Below are the currency exchange rates if payment in different currency from invoice of :
| | |
| --- | --- |
| Invoice of | Payment in |
| SGD 1.00 | RM 3.80 |
| SGD 1.00 | USD 0.80 |
Cash / Cheque Deposit / Interbank Fund Transfer
Bank Name: DBS Bank
Account Name: Cybersite Services Pte Ltd
Account Number: 003-918856-0
Bank Code: 7171
Branch Code: 003
Swift Code: DBSSSGSG
Bank Address: 12 Marina Boulevard, DBS Asia Central Marina Bay Financial Centre Tower 3 Singapore 018982
Notes: Please be reminded to write down your domain name on your bank-in slip or successful payment receipt from your e-banking and have it emailed to us at billing@exabytes.sg. Please let us know if you need a printed copy of your invoice.
Payment By Cheque
Please write your cheque payable to "Cybersite Services Pte Ltd" and bank into our DBS Bank account or POS to our address as below:
Cybersite Services Pte Ltd
140 Paya Lebar Road,
#08-02 AZ @ Paya Lebar,
Singapore 409015
Payment By PayNow
If you want to pay by PayNow please use our  details as follows: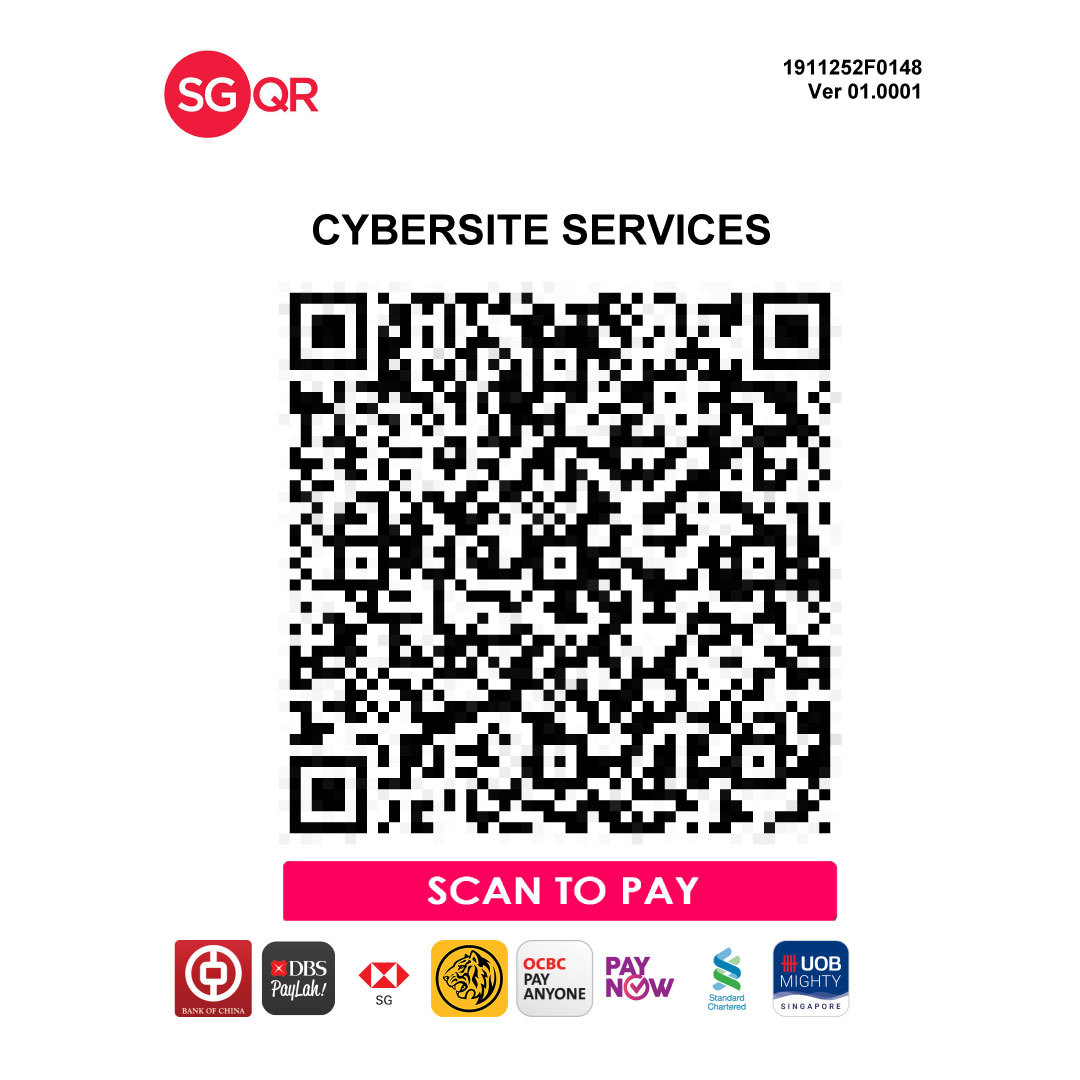 Account Name:


Cybersite Services Pte Ltd

UEN No:


201212065M

What to do after Scanning the QR Code?
1. Enter your invoice number at the highlighted section.
2. Enter the exact amount shown in the invoice you received.
3. We'll now process your payment & send you an email upon confirmation.
4. Your account will be activated upon confirmation of payment.