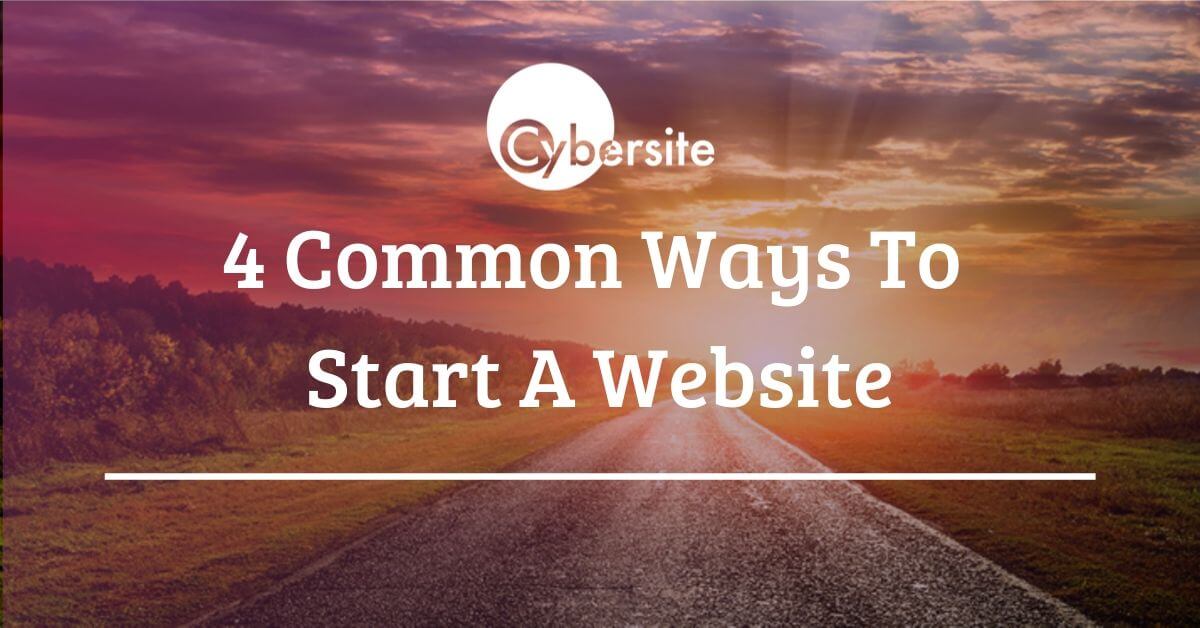 4 Common Ways To Start A Website
Yes, nowadays every business is looking to start their own website as it's important for a business to capture online market instead of just staying on offline. 
However, before you start your own website, you should compare these 4 different ways and select the best method that is suitable for you and your company.
Based on the summarized comparison table above, we can categorize that if you are:
1) Skillful in website coding, you should build your website in Hard Code method.
Website built by self-coding, it only costs you on the domain and hosting price, which is significantly low in term of costing for a website. Besides, you still have high flexibility and capability on your website content management, content design/layout, and also your website features. 
By the way, you must have a good coding skills to code a website by self as there are no professional support available for you.
2) Concerned about costs, you should build your website with WordPress Plugin.
WordPress plugin apps such as Elementor, DIVI and Beaver Builder, all are drag and drop website builder as well as free plugin that let you easily start your own website. The only costs will be your web hosting service which only cost you around S$15.99 /month and come with a free lifetime .com domain. Moreover, you can simply edit your website content anytime with their content management system.
However, with WordPress plugin, your website layout may need to follow the themes (more than 1000+ themes, select the best suited for you) and need extra plugin to setup payment gateway/sign up system.
3) Not concerned about costs and wish to manage all by yourself, you should build your website with Website Builder Provider, such as Wix and Shopify.
With Wix and Shopify, you can easily start up your website with their pre-setup themes and enjoy their ready payment gateway. You also required less skills on technical parts but just drag and drop your images/banners to get your website done. Furthermore, you can amend your website content anytime as well.
Conversely, it's more costly compared with the previous 2 method, as you pay for a more comprehensive services. If you wish to get better features such as payment gateway, video content input, and many more, then you need to look for a higher plan which is even pricey.
4) Not going to spend your time and looking for a complete web design services, you should go for the Outsource Web Design Company.
Most of the web design company offer a complete set of services and only charge you a one-time fee for the website design. Thus, it's definitely not that costly for long-run business even the one-time fee are slightly higher. Besides, you do not require any skills or spend your time on it as you can just tell them all your requirements and sitting back to wait for your website done.
However, some of the web design company do not provide you the website content management services, but don't worry, you can always get the full access from them and update/amend your website content yourself after they completed for you.
*PS: Cybersite web design service provides you the content management service or you also can get the full admin access and manage by yourself.
In brief, if you are familiar with the WordPress or some drag and drop tools, you can start your website by yourself with a domain name and hosting service, it could help to save some costs for you. But if you are not familiar, just find an outsource web design company and let them settle up for you, as the costs and time spent will be unexpected once you have started.
---
Please feel free to Contact Us or drop us an email if you have any inquiries. We will be more than happy to answer any question you might have!
Cheers!